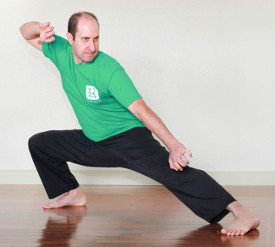 I began my health arts journey in 2009 after realizing that my desk job was not doing my body any favors. Years of inactivity had made me overweight, unhealthy and lacking in confidence.
After training for several years and seeing the positive effects in my health and self-esteem, I felt the need to share these techniques with others and began on the teaching path. Since my instructor certification, I've been fortunate to work with students of all ages and fitness levels to help them improve their well-being.
During my studies I have trained in the internal art of Pai Yang Tai Chi, and also the external art of Pai Lum Kung Fu, attaining the rank of Sifu (full instructor, 200+ hours) in 2015. After continued training, I attained my second instructor level in 2018 (500+ hours). For yoga training, I received my RYT-200 (Registered Yoga Teacher) certification from YogaFit in January of 2021, and I continue to work on specializations such as Yin Yoga and Restorative Yoga.
I am proud to be a teacher member in the White Lotus Association, a nationwide group of martial arts schools focused on imparting strong values to students. I am also a professional member in the American Tai Chi & Qigong Association.
In my competition career, I have participated in several Wisconsin state martial arts tournaments, placing first in Black Belt Push Hands Sparring (2018), first in Black Belt Weapons Forms (2017), first in Black Belt Tai Chi Forms (2015), first in Tai Chi Forms (2013) and second in Adult Point Fighting (2010).
I am currently teaching yoga classes in the Lake Country area, and also have openings for private lessons. See my Class Schedule for details.
To get in touch, please use my Contact page to send me a message. You may also follow the school on our Facebook page.
In good health,
Jon Odishoo